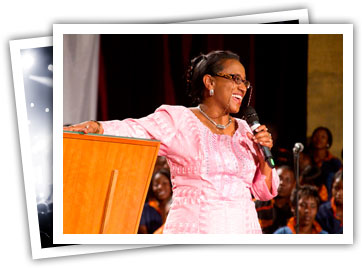 Pastor ChiChi is the wife of Bishop Tudor Bismark. She is the co-founder of Jabula New Life Ministries and co-pastor of New Life Covenant Church in Harare, Zimbabwe. Her sincere heart for people and her desire for the manifestation of the power of the Word of God in the earth have positioned her as a credible minister in her own right.
Pastor ChiChi has a pure passion for the growth and empowerment of women in the world, through her weekly prayer initiatives and business programs for women. Anointed in the areas of sound biblical teaching, intercessory prayer and kingdom finance, she along with Bishop Bismark has grown their assembly in Harare into a force of faith and power for the Kingdom of God.
Pastor ChiChi and Bishop have been married since 1982 and have been blessed with four boys; but her family extends to those who meet her through her kindness and love. As an avid seeker of information and a possessor of revelation knowledge, Pastor ChiChi will minister to your present need, challenge your boundaries and encourage your faith as only a mother can.
Click Here For Pastor ChiChi Bismark's Electronic Press Kit